Alan Anderson Design
Martin House Barrel Chair

After Frank Lloyd Wright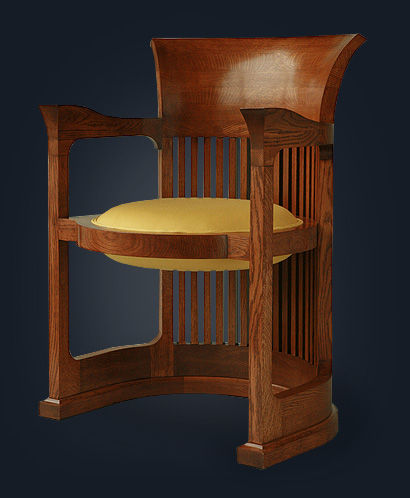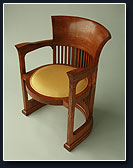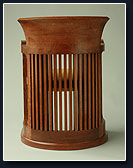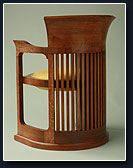 32½" x 23½" x 25"
White Oak
My son Reid and I made two of these chairs for my home a few years ago. They were an approximation of the Martin House barrel chair designed by Frank Lloyd Wright. The chairs are an elegant design but extremely challenging to make. The carved back with curves in two planes is a tricky piece of shaping.
I had always admired this particular barrel chair. It was Wright's first design and the sweeping back is both pleasing to look at and extremely comfortable. His later versions were dining chairs and had a straighter back and were lighter in weight.
In talking to the Martin house staff to find out about the fabric for the seat I shared our work. I was asked to come out to Buffalo to visit the Martin house and make measured drawing of the original for the foundation. I spent a wonderful day with the staff measuring one of the originals and produced detailed drawing for them. It was a wonderful learning experience and an honor to see the original.
The chair is not available for consignment but is included on the site as an example of my son's and my interest in reproductions of great design. It is also a tribute to my son's remarkable talent. He was a junior in college at the time we made them and has since gone on to get two certificates in furniture design from the North Bennett Street School in Boston. He now makes custom furniture in Seattle and you can see his amazing work at his website, http://reidericanderson.com/.