Alan Anderson Design
Hanging Chair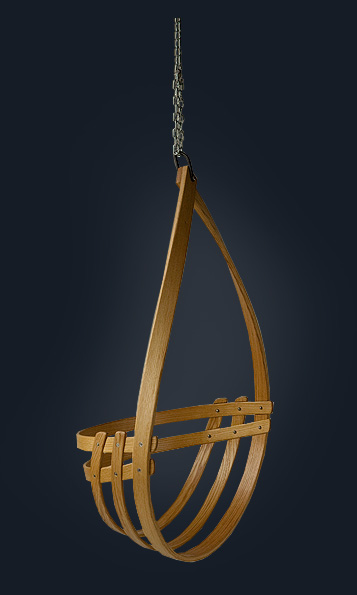 51" x 32" x 19"
Steam bent and laminated Red Oak
Lap jointed and riveted
I admired this chair in a friend's house for 30 years and finally asked her if I could copy it. Despite its simple look, it is very complex. At the Furniture Society's annual meeting at Purchase, New York in 2008, I met Walter Weed who had made the original. Walter was receiving the award for lifetime achievement from the Society, and I was delighted to meet the maker and designer of the original. I told him that I had copied his design, and he remembered the owner as she had lived for a number of years next to his daughter in Bozeman Montana. I sheepishly asked him if he minded that I had copied it and he was gracious enough to say not at all. It is an extremely comfortable and strong chair.