Alan Anderson Design
Elmslie Prairie Mailbox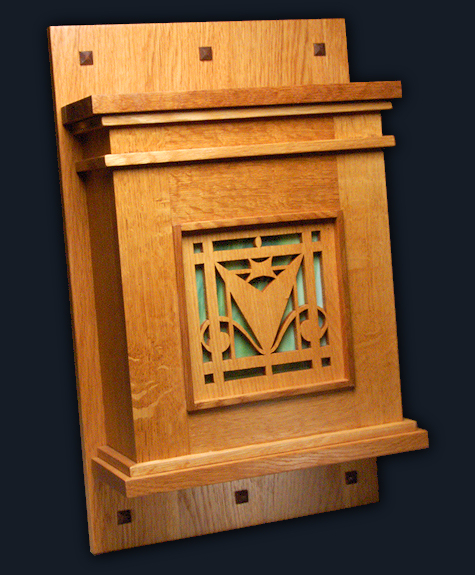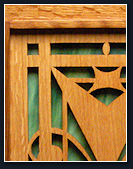 20" x 12" x 5"
Quarter sawn white oak, walnut, stained glass
I have not found any reference to a mailbox designed by George Grant Elmslie so I created this in the spirit of one that Elmslie might have done. The sawn wood is a signature design element of Elmslie. It has design elements that would be considered "prairie" or "arts and crafts". The box is made of quarter sawn white oak, walnut and stained glass. It is finished with all-weather/exterior oil.
William Purcell and George Grant Elmslie were partners in an architectural firm dedicated to a design movement known as "Prairie" architecture. Elmslie began his career as the head draftsman and decorative artist for Louis Sullivan in Chicago. He was a contemporary of Frank Lloyd Wright and worked with Wright for a brief time at the Sullivan practice. Elmslie was noted for his distinctive prairie designs that included sawn wood, stained glass and terracotta design elements used in various aspects of the firm's buildings. Purcell and Elmslie's work is considered some of the finest in the prairie style.